:: Cats ::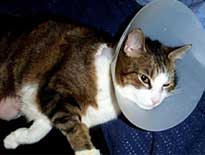 Reiki sent to Princess the cat after her colon surgery:
"Hi Rosemary! I received your email about Princess' Reiki session. I was sad to hear that you felt an incredible sadness during the session. That is something I always worry about, whether or not Princess is happy here. (We are her third owners and she is only 3 years old) I try to give her a loving home and I do spoil her rotten! Hee Hee!
Since your reading, Princess has improved immensely! When I wrote you she wasn't eating or drinking and we had to force feed and hydrate her. She was very lethargic and slept all the time. She has made such progress and now eats and drinks on her own and is even playing again! Thank you so much for working on Princess! We love her so much and are very happy she is doing so much better now! She is almost back to her old self!
With much thanks, Katherine"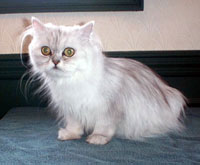 "Angel"
Vicki in Southern California had this request:
"Angel is a silver and white persian. However, I should point out that she recently had much of her hair shaved off at the vets for the IV. After an ultrasound on Tuesday, she was diagnosed with Hypertrophic Cardiomyopathy. The vet said due to her heart walls thickening her blood was not flowing as it should and her heart pumps much harder and faster than it should. She also appeared to have a blood clot near her heart that could dislodge at any time, which could lead to much pain and even paralysis of her back legs. Her lungs are filling up with fluid and she is having a very difficult time breathing. Angel is extremely lethargic and rarely gets up except to eat a little food or go to use the liter box. She is not able to play anymore. The vet said that even with the meds and a special low sodium diet, the max she would live is 3 weeks to 3 months. Angel is currently on Lasix, Atenolol, and Aspirin, though I haven't really noticed any changes since starting the med regime. I love her very much, and hope that she is receptive to the healing. I have read the testimonials on your web page and am hoping for the best." Thanks again, Vicki
RESULT - "Angel is eating and playing quite a bit. I actually have to try to deter her from playing as much and as hard as she does for fear she is overdoing it. She has already passed the 3 week mark of her life expectancy so I am hopeful! Thank you, Vicki"

UPDATE- "Hi Rosemary, Angel is still with us. She is doing quite well actually. I don't think she will be passing over to the other side anytime soon. Sometimes she seems almost completely better, but then I remember she has a heart condition. It is now past the one month mark, so I remain hopeful! Her health has most definitely progressed instead of declining. I will probably purchase another healing for her in April before I leave on vacation, I worry about her when I am not here and think it would put my mind at ease since I will be gone for a week."
UPDATE- "Hi Rosemary- Angel is still with us! I thought about sending you a request for another healing session when I went on vacation in April to ease my mind while I was gone - but she was doing so well that it wasn't even necessary! I think the vetenarian's are a bit stunned, since the latest she was expected to live was early March. She is doing well, eats well, and plays as much as she did prior to her diagnosis. I have been tempted to bring her in for another ultrasound to see if her heart looks better and if the blood clot that was present months ago disappeared- but I don't want to put that added stress on Angel since she hates the vet and it wouldn't do anything to improve her health- it would just be for my knowing. I just go by faith that all is well. I don't see her going anytime soon."

Dana of Newport Beach wrote:

"Your testimonials are wonderful! I scheduled an appointment for Alexis. She is 9 years old and is a beautiful Silver Tipped Persian. We've had some recent problems with Alexis not using her cat box of which there are two in our home. My wife and I are very interested to see if you might be able to help us with this matter. She also at times has developed urinary tract infections but the recent tests show she has none. She has a clean bill of health from our vet and they suggested a therapy clinic run by UC Davis. We live in Newport Beach (Southern California) and don't know whether this is something you might be able to assist us with and if this can be handled without traveling up north. We look forward to your response."

Also: "Hi Again, I've also signed up for a session for my wife Linda who fell about a month ago and broke the humorous bone in her left arm. It seems to be healing nicely but she continues to be in a lot of pain and discomfort."
RESULT- "Alexis has used her cat box the past two days completely. She appears to be a bit more relaxed. I'm certain that whatever you sent her way is working. Again Rosemary, thanks so much for caring, and your help with both Linda and Alexis."
Follow-up- "Hi Rosemary, Just a quick note to let you know Alexis has been using her box all the time now. So far so good!! Thanks so much for your help. I'll keep you posted. ~Dana"


Kim and Pete of Santa Barbara, CA write about their pal, Oscar:

"Hi Rosemary, One year ago my husband and I adopted a cat whom the shelter had named "Rocky". He was very friendly and loving towards us so we were sure we would make a good match. One day I accidentally called him "Oscar" which seemed to fit him better, so the name stuck. After a few weeks he became generally irritable. He spends most of his time outside now and comes in occasionally to eat and hiss at our other two cats--recent additions to the family, which further displeased Oscar. (He was unhappy even before we brought them home. They are under 1 yr. and stay inside). Oscar also eats at our neighbor's house and gets along reasonably well with their cat. I was hoping you could communicate with Oscar to see if there is something we can do to make him feel less irritable. I've tried to communicate with him, but I'm not very good at this yet. I don't know if you would be willing to talk to Oscar and find out if there's anything he wants us to know. Any help or advice would be greatly appreciated. Thank you!"

RESULT- "Hi Rosemary, Thank you so much for the information. Over the past two weeks our relationship with Oscar has improved a great deal. I think that his standoffish attitude made me sort of hold back emtionally with him in return, thereby perpetuating the cycle. Now that I understand where he is coming from, I've been much better able to give him the reassurance and love that he needs, and he has responded surprisingly well. He has started hanging out with us much more often, and little by little seems more comfortable in our apartment and around our other two cats. I've been spending a lot of time with him outside, as well.Thank you so much for your help. It has made a huge difference for all of us; the results have reached beyond my expectations. Thank you again! Sincerely, Kim and Pete"


Laurie writes about her kitty, Callie:

"Hi Rosemary, I need your help with Callie my calico cat. She has tearing eyes and holds one of them closed most of the time. She is constantly trying to clean them. Can you please help her." Sincerely, Laurie

RESULT - "Hi Rosemary! I just wanted you to know that I got to witness with my own eyes, over the weekend your successful work. Callie's eye has stopped tearing and doesn't seem to be bothering her anymore. WOW! I always believed, but seeing it is amazing.! Thank you, thank you, You're the best! XOXO - Laurie"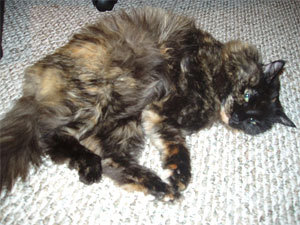 Jacqleen in Hollywood, CA asks for healing for Pixie:

"My cat Pixie is 13 to 15 years old. I adopted her 8 years ago from a vet hospital where she was caged for over 2 years. She has hyperthyroidism and this is the 4th day and night in a row that she has had diarrhea and vomiting. This is becoming a regular occurrence and the worse part is the treatment causes the same side-effects. She is in pain and hides in the closet. Jacqleen"

RESULT-"Thank you so much, Rosemary, for your unexpected and wonderful help! Pixie is completely fine - no diarrhea, no vomiting for the last couple of days. I cancelled the radioactive iodine treatment/operation for her with my vets ok. Reiki is truly miraculous, and so are you! I will update you about my mom, Marika. I called her, but she's not home right now. Thank You, Thank You, Thank You -- You truly are an Angel, sent to me unexpectedly in the toughest moment. Pixie is my baby... Now she's eating and drinking and sleeping next to me (instead of hiding). Thank you so much! Jacqleen and Pixie"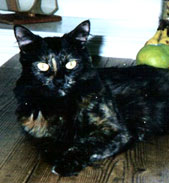 Michele in Pennsylvania writes on behalf of her cat, Genevieve:

"I came home at 2 AM to find my cat in severe distress, with mucous dripping from her nose, crawling close to the ground and having trouble breathing. The hospital admitted her into intensive care with 107 temp. They think it might be either a respiratory issue, an infection or virus. They put her on antibiotics yesterday afternoon, but her temp is still at l06."

RESULT: "Hello Rosemary, I wanted to thank you with all my heart for your intervention on behalf of my cat Geneveive. I just spoke with the hospital and she is doing much better. it looks like she has a severe upper respiratory infection. They are also concerned that she has not eaten in 2 days. She has a weaker constitution then my other cat and I worry about her a lot. She suffered her first 7 years with asthma and tends to get sick easily. Knowing you were there with me today eased so many of my concerns. I am truly grateful! Warmest regards, Michele"

UPDATE- "Well, I picked Gen up today and she is really traumatized and is hiding under the bed. They felt that she should do well on this course of treatment and should be fine."

UPDATE: "Help!!!!! I am so upset. I came home from work today to find her curled up in a ball and drooling profusely. I immediately took her to my vet who felt she needed to change the medicine (which we did). She is now hiding in a very unusual spot near the heat duct in a spare bathroom. I am afraid she is dying. I do not know what else to do? The hospital put her on Clyndamyacin and today my regular vet put her on Clavamox instead. I cannot lure her with any treats to come out from under the bed."

UPDATE: "Good Morning Rosemary, Wow! She made it. I truly was concerned because she was so ill, and then with the reaction to the antibiotics, that she was not going to survive. She is sitting here with me "helping" me write this letter. She is tolerating the new medication just fine and has made a complete recovery. I know your healing helped her to get her health back and will forever be in your debt. I know I have an angel on this planet who is there for me in times of crisis. I can not thank you enough. Thanks again!!!!! Michele"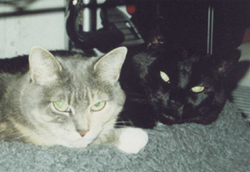 Allan in San Francisco writes:

"Tarzan, my Cat - problems are inflammation and thickening of the intestinal walls, some kind of mass in the lower abdomen; He hasn't eaten in 6 days and is vomiting everything I try to feed him."

RESULT - " I don't know exactly what time you worked on him, but I picked Tarzan up around 4:35 when company came over and he was surprisingly relaxed with being picked up, even purring which, although not totally unlike him, he hasn't wanted to be picked up at all lately."
"Hi Allan - Yes, I was working on Tarzan as you were moving him.
I started at 4:10 and finished at 4:40. ~Rosemary"
Follow-Up: - Yesterday Tarzan began eating for the first time in 8 days and with one exception has managed to keep his food down!

I am sending payment for a second treatment for Tarzan. He is getting better each day.I think this would be a good time to support his continued progress. He eats more each day and tonight he climbed stairs for the first time in 2-3 weeks. I'll keep you posted as to his progress but it certainly does seem he's turned the corner.
Thank you! Thank you! Thank you!
Sincerely, Allan"

Bridget in Phoenix wrote:

Massimo is my cat and has been wobbley for the last two days. I took him to the vet and his ultra sound is okay and we are waiting for his blood tests, they are thinking kidney failure...I love this little guy and would love for a miracle and a healing.
RESULT: Rosemary, Massimo is completely better. Thank you for the healings.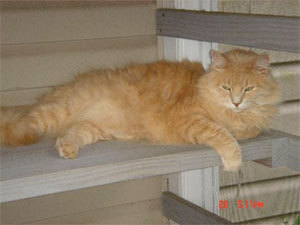 Harriet in Pennsylvania writes about her cat, Calvan:
"'Red' 6 year old wonderful and beautiful animal who has been suffering over the past 3-4 months. Despite 5 visits with 2 vets, he still has not had a specific diagnosis. He has 'scabs' and 'rough areas' around his collar, down his back, on his stomach. I do not see him scratching excessively, but I think he is very uncomfortable. His bloodwork shows a very high allergy reaction, and has been treated with homeopathic remedies, and also for ringworm, which subsequent testing did not show. He is just not the same, happy-go-lucky, lovable cat. Instead he is hiding, moping, not excited about food or water. I have noticed him 'shivering or vibrating" which I have described to the vet. could it be pain??? His coat looks scraggily and I feel so said to see him so unhappy. Can you help our Calvan?" Harriet"

RESULT- "July 4th...Enjoyable day with family and friends. My daughter interacted favorably with Calvan-he rolled over and purred, etc. She pronounced him 'cured.' He slept on my granddaughter's bed all night, and seemed very happy. Harriet"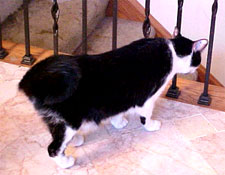 Laurie in Kenosha, WI writes for her pal, Buddy:
"I have something else for you to do for me if you are willing. Buddy is the black & white cat that I got from a pound. I wonder if maybe he got hit by a car or something, but now he lifts his rear end to make his spine level and it is getting more frequent and more difficult. Laurie"

RESULT- "Rosemary, just wanted to thank you for helping Buddy, his back is much better thanks all to you. XOXO Laurie"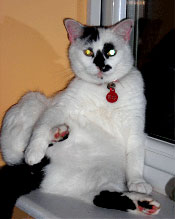 Nikki in the U.K. writes about SpottyCat:
"I've just made a payment on your website for a healing for SpottyCat. We think he's anywhere from 5 to 8 years and he's just been diagnosed with severe hypertrophic cardiomyopathy. This is the third cat I've had in as many years with the diagnosis, and even the vet has remarked on how unusual it is. Prognosis (from the vet) isn't good. He really struggles after exertion (even washing)as his heart just can't pump enough blood around fast enough. He's been put on on atenolol and furosemide, but I haven't seen any clinical improvement. With thanks and hope, Nikki"
RESULT- "Hi Rosemary, Well, I'm a bit dumbfounded, to be honest! He's a different cat, and that started Friday night. He was out most of the night running around and 'trilling' (his happy 'come play with me' noise), until 6 am, when he decided to come in the house - so finally I got up and played with him!
Since the healing he's been bright, extremely energetic, happy, playful,
and his breathing has almost normalized. Instead of becoming out of
breath and 'flopping' after running around a little, he's been charging
about madly, and then staying upright to rest. He's certainly breathed harder,but not really much more than any other cat -
and recovered much more quickly than usual."
Dr. Piazza from Staten Is., NY writes for Flea:
SUBJECT- "Attached is a photo of my girl Flea. She lives with me in Staten Island New York and her ailment is portosystemic shunt which is otherwise known as liver shunt. Flea had surgery Thursday morning to correct her condition. Thank goodness the surgery went very well, but she is currently displaying (post-operatively) neurological symptoms including temporary blindness, tremors and body twitches. The doctor has her on anti-seizure medication. Please send her a Reiki session while she is in ICU. Thank you, Dr. Piazza"
RESULT- "Flea's doctor called me tonight at 5pm EST to say that she was doing much better, and feeling much more comfortable. I had a feeling that you did your reiki session and that was the reason why she was doing so well- that and of course, God's continued blessing and healing. Thank you for everything. God bless you. Dr. Piazza"
Chris in Philidelphia, PA asks for healing for Whitefoot:

SUBJECT- "Rosemary, I was given your name by Michelle Leff whose cat Geneiveive was healed by you last year.My cat, Whitefoot, who is 17 years old had all of his teeth pulled 2 ½ weeks ago because they were diseased. He wasn't eating very good when he came home & therefore not getting enough of the antibiotic in his food. So we admitted him to the hospital to insert a feeding tube to give him his medications. While in the hospital his X-ray showed an enlarged heart, he suffered a seizure. Now his kidney function is not good. He came home after 5 days & I'm giving him medication for his heart, an appetite stimulant, & a diuretic through the feeding tube. Also giving subcutaneous fluids under the skin twice a day. I've never done this before, so I don't know what to expect, but Michelle says you saved her cat. I hope you can help me and my cat.

RESULT-"Hi Rosemary,Thank you very much for doing another session for Whitefoot. He is doing much better. He hasn't had any more seizures and his energy level has improved considerably. He is eating better – even dry food. One day he wouldn't eat anything I gave him, so I tried putting down dry food & he ate it. He still needs to gain some weight & eat a little more, but I just had him back for a checkup at the vet, and the biggest problem right now is that he has elevated kidney levels. We are giving him subcutaneous fluids under the skin daily hoping to improve this. Could you do a session concentrating on his kidneys. Thank you – I know your work has helped a lot. Chris & Jim"

UPDATE-"Hi Rosemary, Whitefoot is doing very good. He has returned to all his old habits. He's an inside/outside cat, and he has been venturing out – checks out his property and come back in when I call him – don't like to leave him out too long ( I feel a little uncomfortable about him being out with no teeth), but don't want to restrict him to the house. Psychologically, I don't think it would be good for him. He isn't scheduled to go back to the vet for 3 more weeks, so I won't know how his kidneys are until then. He is eating better – still needs to gain some weight, but I'm optimistic. I will be in touch after he has his checkup. Thank you very much, Chris & Jim"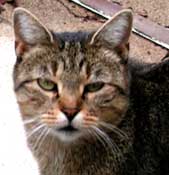 Greg in Canada writes about his kitty, Bonehead:
"Hi, Rosemary,You may remember having done a procedure for Bonehead, my cat, a little more than one year ago. The problem was a bony bump on her jaw. The vet said that things were hopeless, and that I could bring B home. She would disappear into the woods when her time was due, because that is what cats do. However, Bonehead has almost completely recovered. The bump is hardly noticeable. She is her same old self, and a wonderful cat, although EXTREMELY PERSISTENT in demanding petting. Interestingly, I received a postcard from the vet, informing me that the time is due for the one-year check-up for my other cat, Dixie. But no postcard arrived for Bonehead. Thanks again, Greg"